Wines of the Month

LE NEZ DU VIN - "The World's Ultimate Wine Education Kit." Wine aroma identification kit created by French wine expert Jean Lenoir in 1981.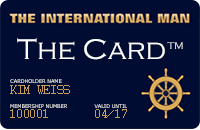 The Upcoming TIM Card
The International Man will in the near future be launching its own PRIVILEGE & BENEFIT MEMBERSHIP CARD - named simply 'The Card'. Members will receive special privileges, benefits and preferential rates with selected partner hotels, restaurants, and much more.
Enter your name and e-mail address to receive FREE INFO about 'The Card':